Coined by critics a sound alchemist (Le Monde) for his music and performance work, Mikhail Karikis has developed a vocabulary which fuses the avant-garde, Balkan folk and pop influences. With studies in music in his native country Greece, in Architecture and Fine Art in London, Karikis's interdisciplinary work is embraced equally by art galleries and concert halls and focuses particularly on the voice as a sculptural material confronting notions of identity. His collaborators range from visual artists - Sonia Boyce, Zineb Sedira, Oreet Ashery - to classical choirs - Hilliard Ensemble, Alamire, Cantamus - pop-musicians - Björk, DJ Spooky - and fashion houses - Prada, Rozalb de Mura. Karikis's work has been shown widely, including at Tate Modern, Tate Britain, Purcell Room, BAFTA, Nederlands Dans Theater, Musée Cantonal des Beaux-Arts (Switzerland), Colston Hall, Synch Festival (Greece), De La Warr Pavilion, Milton Keynes Gallery, Whitstable Biennale and elsewhere. His music has been released world-wide by Sub Rosa records, the MIT Press, One Little Indian label and the University of Oxford.
Love Song instructs a vocalist to utter the phrase I love you one thousand times without ever pausing for breath. The composition permits the use of electronics. In the recording by Karikis, the multiple utterings of I love you take place on the breath-intake. Speaking while inhaling distorts and injures the voice, and exhausts the performer. Multiple recordings of this act were repeated and layered in the studio. In effect, the piece becomes an endurance test and records the voice attacking itself until the lungs fill with air and become metaphorically saturated with love words, and the voice can speak no more. The work suggests a private emotional experience whose intensity or even destructiveness becomes unspeakable.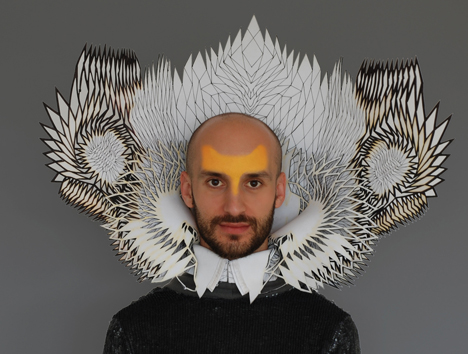 Mikhail Karikis, portrait by Uriel Orlow.