Reinhard Kropf & Siv Helene Stangeland are founding partners of Helen & Hard, an architecture firm based in Stavanger. They have been invited to Manifesta7 where they are presenting The Naked Garden, a wall installation which takes the clue from the research on those microorganisms - bacteria and mold - that had occupied the same wall within the former Alumix farm.
A robot waterjett cutter has been programmed after the growing rules of mold in order to carve the wall already inhabited by fungi, providing thereby basic living conditions: light, water and wind.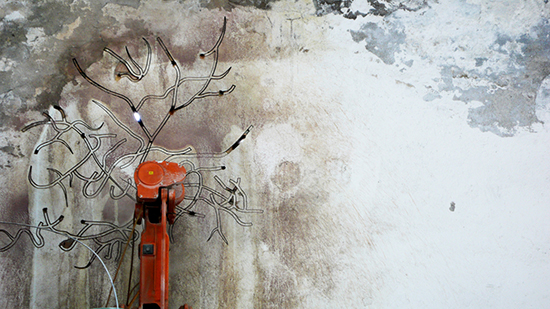 Reinhard Krpf & Helene Stangeland, The Naked Garden, Ex Alumix, Manifesta7, Bolzano, 2008.
Here he talks about The Naked Garden as a starting point for a reflection on the future of industrial building - such as the Alumix - and the possible ways for a more spontaneous use of them, for a broader social participation, for a more conscious self organization of venues and cultural programs.