Any Technology gradually creates a totally new human environment. Environments are not passive wrapping but active processes. [Marshall McLuhan]
Italian artist Loris Cecchini has been invited to develop a site specif project in Santa Croce sull'Arno - one of the italian capitals of the tanning industry - and to work hand in hand with a local company - Superior S.p.a. - that masters the art and craft of leather.
Loris Cecchini usually deploys various materials in a never-ending dialogue between art and science, chemistry and aesthetics: he creates mesmerizing object questioning funcionality, he turns natural elements, organics particles and atoms into inorganic mirroring and modular sculptures.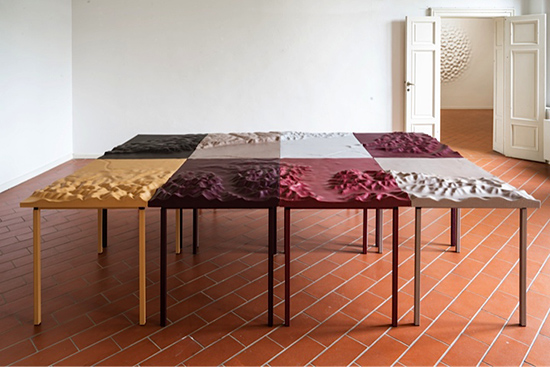 Loris Cecchini, Tavolo parallelo alla terra, terra parallela al tavolo, Villa Pacchiani, Santa Croce sull'Arno, 2016.
In Santa Croce sull'Arno he's been working at the edge between representation and perception, undermining the scientific exactitude of the map, depowering it, turning it into a memory platform, a suspended object of afunctionality.
The conversation is in Italian.