Art is the mode of prediction not found in charts and statistics and it insinuates possibilities of human relations not to be found in rule and precept, admonition and administration. [John Dewey]

Neither cultural nor political history can be understood without considering the relationship of people to their environment, which includes soil, flora, fauna, climate, and the way they get their nourishment. As the Finnish people say, "Sita kuusta kuuleminen, jonka juurella asunto" (you should listen to the spurce tree, under which you are living). [Amy Franceschini]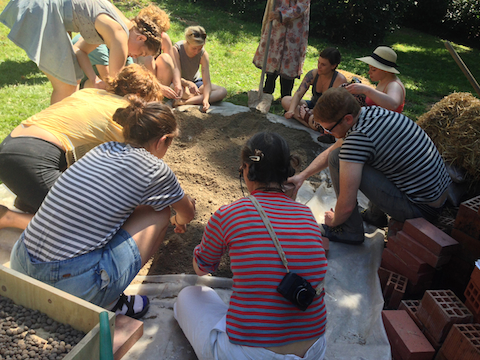 Amy Franceschini, Decompression Gathering Summer Camp, Corniolo 2014
Decompression Gathering Summer Camp is a week of communal living and group working that tries to rethink the processes of knowledge production and transmission.
Amy Franceschini, DGSC 2014 visiting professor, took rural rituals connected to bread production and drew from fading agrarian practices as a means to question ideas of collectivity, social engagement and strategies of resialiance. Franceschini is founding member of collective Future Farmers, a group of artists and designers that since 1994 are at the forefront of partecipatory projects destabilizing dominant cultural and social policies.
Futurefarmers, This is Not a Trojan Horse, 2010; intervention in Abruzzo, Italy, 12 days; Courtesy the artists
Together with a group of international practicioners and artists gathered in Corniolo [Mugello Valley - Tuscany] from August 25th to August 31st, Amy Franceschini learnt how to build a bread oven and through the bread making [from grain milling to knead the dough] they explored some possible modes of collaboration.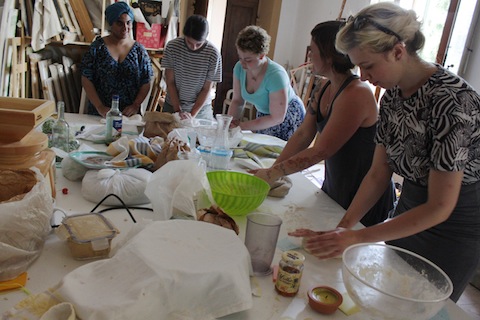 Amy Franceschini, Decompression Gathering Summer Camp, Making bread, Corniolo 2014