I'm looking at charity singles from the 80s and 90s not just as a genre but as an historic moment in time; I'm looking at what kind of social, cultural, historical circumstances made charity singles - as a form of let's say cross between music and politics - possible.
[Samson Young, Venezia 2017]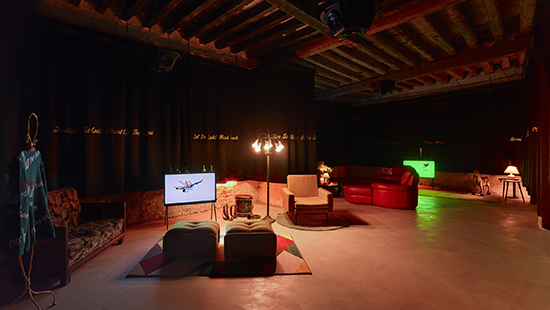 Send them your heart so they'll know that someone cares
And their lives will be stronger and free
As God has shown us by turning stones to bread
So we all must lend a helping hand
[USA for Africa | We are the world, 1985. Testo: Michael Jacson & Lionel Richie. Prodotta da Quincy Jones]
Fu una corsa transoceanica alla solidarietà: l'industria discografica inglese e quella statunitense contro la fame in Africa. Simon Le Bon, Bono Vox e Bob Geldof da un lato, Michael Jackson, Bob Dylan, Cindy Lauper, Diana Ross e molti altri dall'altro. La hit natalizia Do they know it's Christmas? che strizzava l'occhio al'opulente mondo occidentale - and in our world of plenty, we can spread a smile of joy - e il successo commericale da venti milioni di copie We are the world che auspicava utopici universalismi.
Bangla Desh, il primo charity single era uscito nel 1971 grazie all'iniziativa di George Harrison in seguito al ciclone Bhola e allo scoppio della guerra di liberazione della regione est del Pakistan. Da allora sono stati raccolti milioni di dollari, si sono accese e spente le luci su decine di carestie, guerre, epidemie di cui qui, a casa, arrivavano solo lontane notizie.
È da questo fenomeno tipico degli anni Ottanta - all'incrocio tra mercato discografico, solidarietà, musica, politica e nuova consapevolezza talvolta post-coloniale talvolta terzomondista - che prende origine Songs for Disaster Relief, il progetto con cui Samson Young rappresenta Hong Kong alla 57ma Biennale Arte di Venezia.
Of course we have always had topical songs there are responding to sort of either disasters or political situations; there is a very long history of union songs but if you think of labour songs and the difference between those and charity singles, in charity singles look at the lyrics, it is often not topical, it is not about particular struggle or cause, it is about a projection of a forward moment and aspiration: we are together, we are one world , one humanity, we must step forward….these are aspirations with no specific target in the lyrics and I think that is a new thing. In the case of union songs there is always a particular class, a particular struggle whereas these are more about an utopian vision….
Con Young abbiamo parlato di come riconciliare sentimentalismo e cinismo, la capacità manipolatrice della musica e la razionale percezione di essere vittime di tale operazione. Abbiamo parlato di charity song ma anche di campane e bombe, di suoni iconici e contraddittori che richiamano opposti sentimenti. Abbiamo parlato di consapevolezza politica, di ruoli di potere e anche di radio, come metafora e strumento di occupazione di nuovi territori.
Samson Young è artista multidisciplinare, compositore e musicista di Hong Kong. Ha un dottorato di ricerca in composizione musicale alla Princeton University e una laurea in musica, filosofia e gender studies alla University di Sydney. Il suo interesse spazia dal sistema occidentale di notazione musicale alle ambigue relazioni tra suono, warfare, musica e politica.
L'intervista è stata registrata l'11 maggio a Venezia, in Campo della Tana, sede di Songs for Disaster Relief [il padiglione di Hong Kong si trova di fronte all'ingresso dell'Arsenale in Calle della Tana]; è accompagnata da registrazioni ambientali fatte all'interno del padiglione, da estratti di charity song internazionali e da Such Sweet Thunder, il radio piece prodotto da Young per Documenta 14.