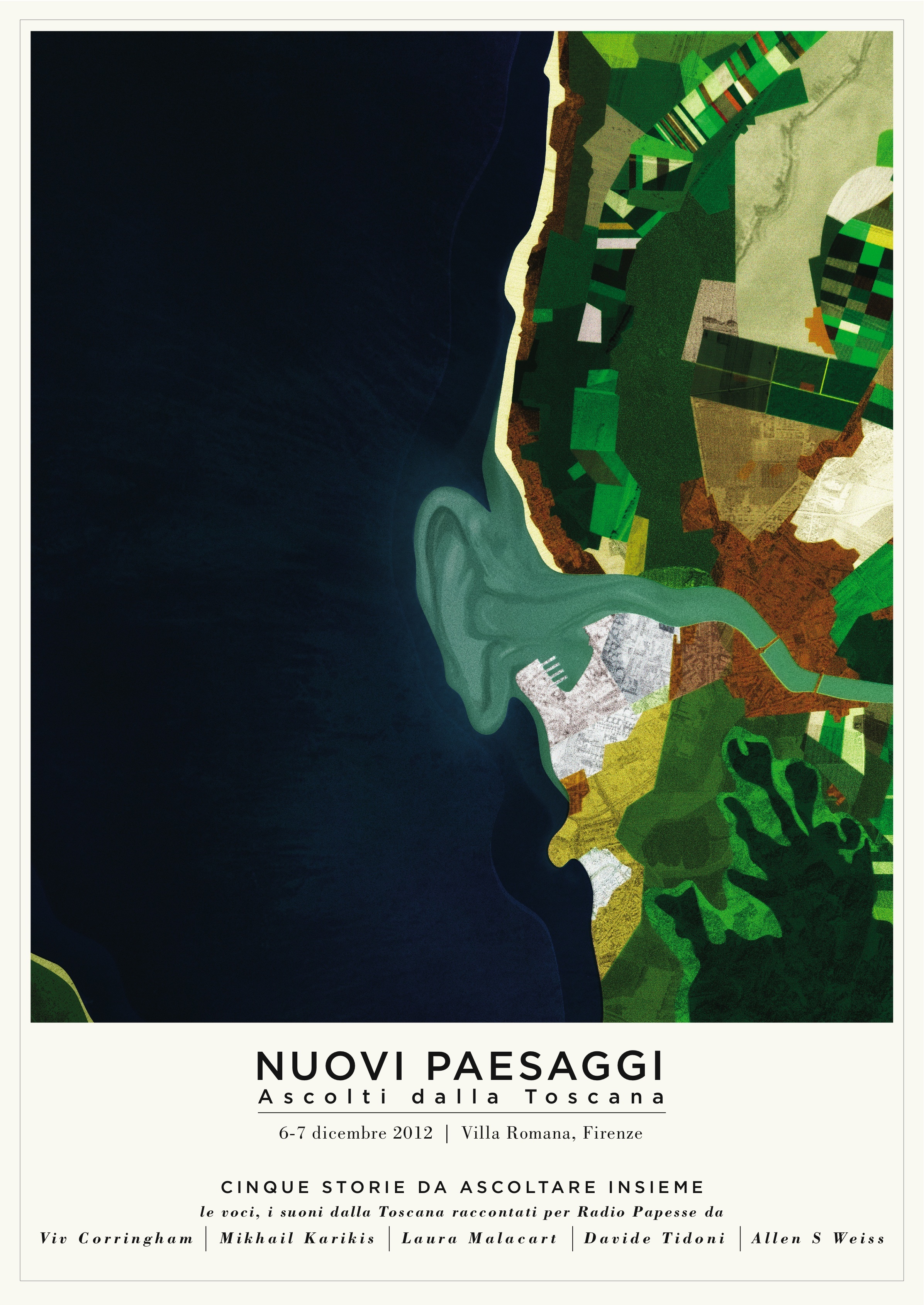 SAVE THE DATE: New Landscapes | Listenings from Tuscany
December 6th & 7th 2012, Villa Romana, Florence.

Five stories to listen to together. Voices and sounds from Tuscany produced for Radio Papesse by Viv Corringham, Mikhail Karikis, Laura Malacart, Davide Tidoni, Allen S. Weiss.
December 6th 2012, Rome Time
19.00 | Viv Corringham, Shadow walk (Florence)
19.40 | Davide Tidoni, The new shape of public architecture
20.30 | Mikhail Karikis, Song for Larderello: Overture

December 7th 2012
19.00 | Allen S. Weiss, Carmignano
20.00 | Laura Malacart, Voicings (Italy)

At the presence of Lucia Farinati and Laura Malacart.

These two sessions of collective listening – on December 6th and 7th 2012 at Villa Romana – will conclude New Landscapes | Sound Stories from Tuscany, an annual project for residencies and artistic projects that has involved Radio Papesse, along with five international artists - Viv Corringham, Mikhail Karikis, Laura Malacart, Davide Tidoni, Allen S. Weiss - and curator Lucia Farinati in a long and fruitful exchange with the territory of Tuscany and the medium of radio.

During these two evenings of collective listening, we will discover the stories of these five authors as they have travelled throughout Tuscany, from Florence to Carmignano, from Larderello to Santa Croce sull'Arno.

The project's origin, the idea of 'using' radio as a tool for artistic production – with all the narrative and imaginative potential of sound liberated from image – have found fertile ground for development in the territory of Tuscany, as well as interesting interpretations in the dimension of travelling.

Invited to portray multiple voices, these five artists participating in the project have passed two weeks in Tuscany: the stories and sounds they have gathered have been merged into five audio works for radio. We experience different ways of working in situ, different ways of listening that these works invite us to adopt, beginning with five trips, made by five travellers who have discovered different points of listening, beyond our familiarity with the imaginary Tuscan.

Quoting the ethnomusicologist Steven Feld, knowing where you are is knowing who you are. In order to discover this, we accept his invitation to listen, expecially when it's impossible to trace a single sense of place; instead, multiple identities are being created, needing to be reformulated with individual pathways. We find this complexity in the intertwining of stories and pathways by Viv Corringham in the Statuto/Rifredi area, Florence, as well as in Mikhail Karikis's Dantesque explorations in Larderello, where the modern utopia that welcomed Giovanni Michelucci's urban projects has been disillusioned, and where today, after their abandonment, we can imagine starting again from a different identity. We also find it in the work of Davide Tidoni who, from the physical exploration of a space - the construction site of Florence's new city theatre – embraced the contradictions and suspensions of a project that is at the heart of Florence's political imagination and the center of its cultural identity.

This complexity is also told by Laura Malacart - who worked in the area around Santa Croce sull'Arno - with a spoken piece, in which the repeated language is a hypnotic comprehension exercise of what happens when an individual finds himself 'living' another language, that is, existing in another culture. Words are also the protagonist of the work by Allen S. Weiss, whose educated verses in Carmignano explore the limits of language faced by the experience of taste.

We invite you to listen, as we begin on the 6th and 7th of December by lending an ear to New Landscapes from Tuscany.

New Landcapes | Listenings from Tuscany is a project by Radio Papesse and Villa Romana, created within the project Compagni di viaggio for Toscanaincontemporanea 2011.

Curator: Lucia Farinati.
This project has been created with the support of the Region of Tuscany.
Co-produced by the Municipality of Santa Croce sull'Arno, the Municipality of Pomarance, Tempo Reale, Architettura Sonora, Tenuta di Capezzana.

With the help of Accademia della Crusca, Associazione Arturo, ENEL Green Power, Maria e Gualtiero Masini, Fondazione Michelucci, FOSCA, Parco delle Colline Metallifere, SAC S.p.a, Società Chimica Larderello, Teatro del Maggio Musicale Fiorentino, Teatro Verdi di Pisa, Teatro Studio Scandicci.