Applications are now open for the third round of YASS! You are so sound, a training and exchange program for producers, audio makers, sound artists - emerging or otherwise - and cultural workers interested in audio narration. Thanks to the collaboration and the support of Short Theatre in the frame of Radio That Matters, this edition opens up to investigate the relationships between performing arts, sonic agency, acoustic research, radiophony and disability.
YASS! 2023 features Lucia Scazzocchio, Kristina Loring, Lucif Dalin, Astrid Hald & Rikke Houd e Raymond Antrobus.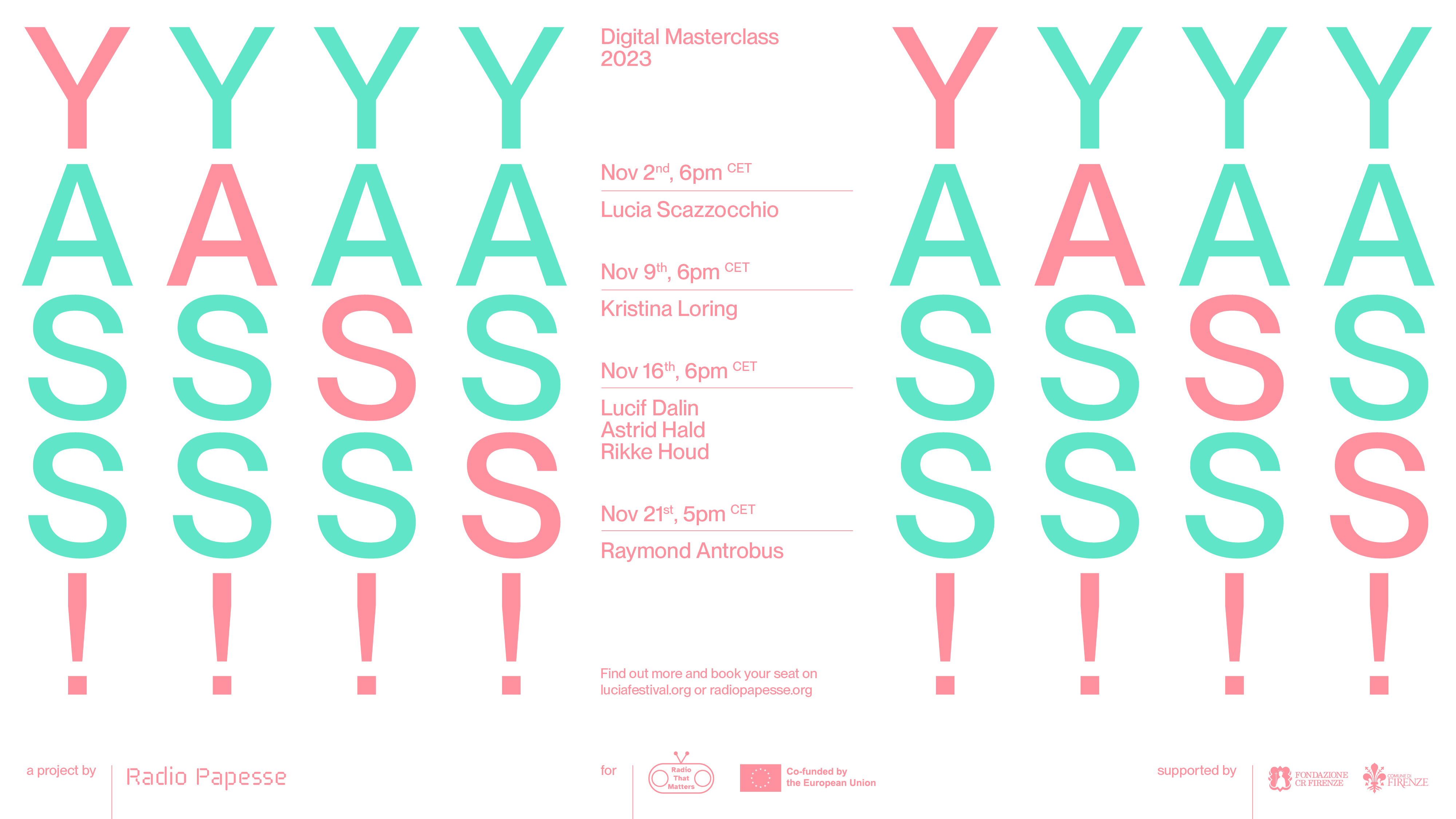 November 2nd, 6pm CET
Lucia Scazzocchio
A Field Guide to Social Broadcasting

Social Broadcasting combines contemporary radio/podcast making, community engagement and participatory art practice, setting it apart from more traditional community radio, oral history recording and podcasting formats, although it does draw from these. The objective of Social Broadcasting is to document and present real everyday experiences and conversations, inviting reflexivity both from participants in real-time and listeners in the future. Rather than recording and capturing to tell a pre-determined story for a prescribed audience, conversations and interactions are themselves as much the purpose of the Social Broadcast as the final output.

This workshop will provide practical tools and techniques to open up conversations, narratives and stories with under-represented communities and spaces in a collaborative and open exchange. We will cover:
- How to access and engage with different micro-communities,
- Staging conversations - Creative ways to facilitate and enable conversations as a place for active listening and sharing stories and revealing narratives in both public and private settings,
- Co-creation - making work with groups with varying skill sets and abilities can be challenging, but how can this be truly collaborative and empowering for everyone involved?


November 9th, 6pm CET
Kristina Loring
How do you make audio palpable?

Sound has the ability to change our mood, awaken our senses and conjure past memory and future fantasy. In this masterclass, Kristina Loring shows how narrative audio can be more than just telling a story. She explains how to create an emotional atmosphere so that the listener is more aware of their place: in a body, an environment, and in society. We'll explore how to use our bodies to create sound work and how to create sound work that resounds in the body.


November 16th, 6pm CET
Lucif Dalin, Astrid Hald & Rikke Houd
Nothing about us without us

Rikke Houd, together with Astrid Hald and Lucif Dalin will share some insights into the production of Alt det som ingen ser, a monthly podcast - promoted by Dansk Blindesamfund - that investigates, debates and documents with curiosity the lives of visually impaired people. Nothing about us without us is a masterclass about including the target audience in the process of communicating to and about people with disabilities. How to ensure an including, safe and creative space for the entire team, with and without disabilities?
November 21st, 5pm CET
Raymond Antrobus
The Word. Spoken. Written. Signed. Conceived.

In this poetry reading and talk, Raymond Antrobus will show materials and videos of works that inspired him, such as the works of artist Chrsitine Sun Kim. He will also discuss language and communication in the light of the experience of his deafness.


WHO ARE THEY?

Lucia Scazzocchio has developed a practice she calls Social Broadcasting, combining community engagement, co-creation, audio production and broadcasting techniques to create unique insight into specific communities and environments. As an audio producer, her work is often collaborative and immersive, creating interactive environments where the public are invited to share and record their own experiences and stories. She also works as a facilitator and teacher, regularly running audio workshops for students at MA level to complete beginners of all ages. She has been a regular contributor, facilitator and audio producer as part of community engagement strategies around place making, co-designing the audio elements integrated into these projects.
She has also launched XMTR.FM, a curated space for sonic storytelling.

Kristina Loring is a story editor, creative director, and audio producer— who works across genre and form to create media experiences that you can feel in your body. Most recently, she was the Head of Audio at Dipsea, a feminist audio fiction app designed to turn you on. Before that, she created the interactive cooking show Cooking By Ear that invited listeners into the homes of celebrity guests to chat in the interstices of making a recipe. Her most recent sound installation Message in a Bottle (2021) was selected as part of the Sound Scene Festival in partnership with the Smithsonian Hirshhorn Museum in Washington D.C. It invited listeners to connect with strangers via the discovery of a glass bottle containing a secret hotline that offered premonitory advice.


Lucif Dalin is newly visual impaired, disability activist and MA in anthropology.
Astrid Hald is an independent audio producer and documentarian, MA in Radio.
Rikke Houd is an internationally award-winning audio documentary maker, podcast editor-in-chief at The Danish Association of the Blind.

Raymond Antrobus is a poet, writer and broadcaster. He was born in London to an English mother and Jamaican father.
He's a Cave Canem Graduate and a Fellow of The Royal Society of Literature. He is the author of To Sweeten Bitter (UK, Out-Spoken Press), The Perseverance (UK, Penned In The Margins / US, Tin House) and All The Names Given (US, Tin House / UK, Picador) as well as children's picture book Can Bears Ski? (UK, Walker Books / US, Candlewick). He is the 2019 recipient of the Ted Hughes Award as well as the Sunday Times/University of Warwick Young Writer of the Year Award, and became the first poet to be awarded the Rathbone Folio Prize. His first full-length collection, The Perseverance was shortlisted for the Griffin Poetry Prize and The Forward Prize, 'All The Names Given' was shortlisted for the T.S. Eliot prize and the Costa Award.
Inventions in sound, the radio documentary produced in 2021 with Eleanor McDowall (Falling Tree productions) for BBC Radio 4 was among the winners of the Third Coast/RHDF Competition.

How do I register for the masterclasses?
TO JOIN, PLEASE FILL IN THE ONLINE FORM
Up to 30 people may take part in each masterclass. If the seats in the masterclass(es) you have decided to attend are sold out, please send an email to yass@radiopapesse.org with the following subject line: Waiting list + Masterclass name.
How much do the masterclasses cost?
YASS! is free of charge for all students who can prove they are enrolled in the current year and it is free for Radio Papesse members and Radio That Matters' associates. For all others, it is 5 € per lesson (20 € the full cycle), thanks to the support of our partners which allows us to keep costs low for you.

What are the requirements for participation?
YASS! is a programme designed for authors, artists and audio producers, but also for those who want to fine tune their own voice and improve their tools and techniques. Participants in the masterclasses must have at least a basic knowledge of audio production. Participants must have a good knowledge of English.

Where do the masterclasses take place?
YASS! masterclasses take place online
All participants will be sent detailed instructions and a private link to access the streaming.

If you can't find what you're looking for here, write to yass@radiopapesse.org
To follow the developments of Radio That Matters, follow its FB and IG profiles.

YASS! 2023 is part of the sound training programme on acoustic-perfomative formats and research provided by Radio That Matters and devoted to project partners and other cultural operators. YASS! 2023 is possible thanks to the collaboration with Short Theatre in the frame of Radio That Matters - an initiative funded by the European Union - and the support of Comune di Firenze and Fondazione CR Firenze.

Views and opinions expressed are however those of the author(s) only and do not necessarily reflect those of the European Union or the European Education and Culture Executive Agency (EACEA). Neither the European Union nor EACEA can be held responsible for them.