When we started working with Mireia c. Saladrigues and Stefano De Ponti, we knew that sooner or later we wanted to bring them together, to make them collaborate. Their practices are the result of excavation and sedimentation, of research, the probing and accumulation of matter and materials, of poetic drifts and an almost obsessive interest in stone: marble in the case of Saladrigues, pietra serena (sandstone) for Stefano De Ponti. Their work belies the most classic attributions: you say silent as a stone, as solid as marble, but instead, in their work, we discover how fragile marble can be, how stone can resonate, how much they can say and preserve, like archives of sedimented information... and it doesn't matter what the order of magnitude is, boulder or dust.

The time has come, next November 14th we'll celebrate them.


It was 14 September 1991 when the news hit the world: a man, Piero Cannata, hammered Michelangelo's David's foot in the Accademia Gallery in Florence. The second toe of his left foot was damaged.

Interested in iconoclasm as one of the many forms of art reception, in 2017 Mireia c. Saladrigues began a work of archival excavation to piece together the history of Cannata's case, delving into the restorations that followed, and into the nature and physics of marble, itself understood as archive and testimony. The research by Saladrigues, who has been collaborating with Radio Papesse since 2018, was condensed into a performance lecture entitled Into Sugar We Could Have Turned.





On 14 November (at 11 a.m. and 6 p.m., free admission with reservation at info@khi.fi.it), at the photo library of the Kunsthistorisches Institut in Florenz, Mireia c. Saladrigues will present her work to the public, activating documents, memories and other material, navigating between history, the archives of local institutions, narratives and geology.

"What does a hammer blow to David's foot tell us about our relationship with art? - the artist asks - What sources of information does an act of iconoclasm mobilise, beyond archives and single personal memories? How did the art conservators extract data from the scraped marble fragments of the stricken foot? And does the (marble) dust become a record of the attack?"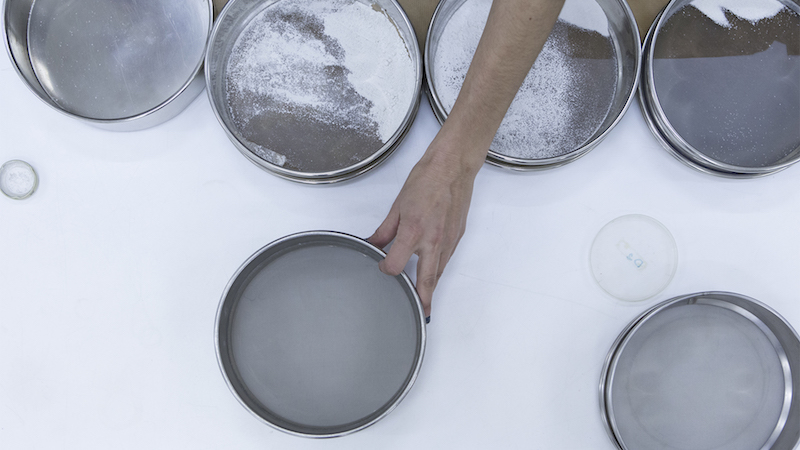 On 14 November, from 17.00 to 21.30, the evening continues with the sound installation Transient Mobiles by Stefano De Ponti, at the Officina del Marmo in Via dei Serragli, Florence.

His collaboration with Radio Papesse began in 2020, in the context of La natura delle cose ama celarsi. In this research project, Stefano De Ponti investigates the perceptive potential of pietra serena, an endemic sandstone that marks the Tuscan landscape from the quarries in the hills around Florence to the Renaissance ashlars of the city centres, and the dynamics of massification and accumulation in the processes of musical creation and fruition.

In a present characterised by a serial accumulation of content and frenetic, partial and distracted consumption dynamics, what modes of fruition could encourage attentive, intentional and profound involvement?




Transient Mobiles are portable monophonic listening devices for ephemeral compositions. All you need is a simple press to activate a flow of sound that propagates in the user's body through a bone diffuser, exploiting the conduction and resonance properties of the skeletal system. This device lends itself to personal discovery and use, so that listening becomes exclusive and qualitatively different for each person, modified by individual physical peculiarities. In this sense, we could consider the Transient Mobile a testimonial work, unverifiable, shareable in the form of a narrative by those who have used it, in whom we must place our trust.
On 14 November, Stefano De Ponti will disseminate his transient mobiles in the spaces of the Officina del Marmo (Via dei Serragli 104, free entrance), a laboratory and artisan's workshop devoted to mosaics and scagliola, marble and semi-precious stones.

This initiative is promoted by Radio Papesse, thanks to the cooperation of Officina del Marmo, NUB Project Space and the Kunsthistorisches Institut in Florenz – Max-Planck-Institut as part of The City as Archive, a project curated by Costanza Caraffa and Hannah Baader. With the support of the Municipality of Florence, Città Metropolitana di Firenze and Fondazione CR Firenze. Into sugar we could have turned was made possible thanks to the Kone Foundation and Suomen Kulttuurirahasto.




In December, Radio Papesse – in collaboration with Mireia c. Saladrigues - will present La Martellata, a radio series for RADIO 3 RAI's Tre soldi. Starting with the Cannata case, the series will attempt to talk about iconoclasm and shed light on a phenomenon that is as fascinating as it is complex.